HOW IT WORKS
Here at TastyBone, we're so confident in the longevity of our TrioBones, that we offer a 100 day guarantee on all purchases. That means, if your pooch does manage to chew through one of our Trio Bones before the 100 days is up, you get a free bone on us! Take the #tastybonetest and tag pictures of your progress for a chance to win a year's supply. Click here to shop TrioBones.

What qualifies as a chewed bone?
Many dogs are strong chewers and wear and tear is expected during the first 100 days. However, if your pooch manages to completely wear down at least one of the arms on our TrioBones, you will get a full refund.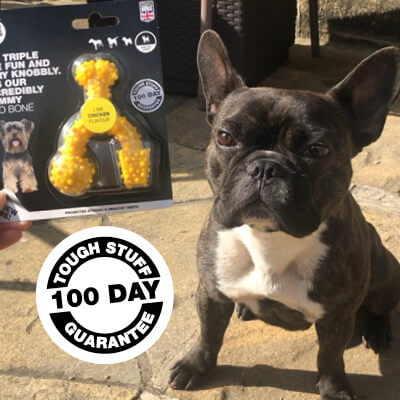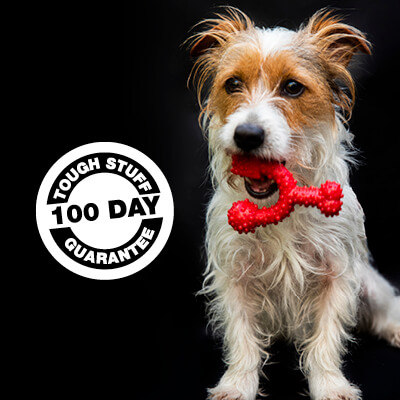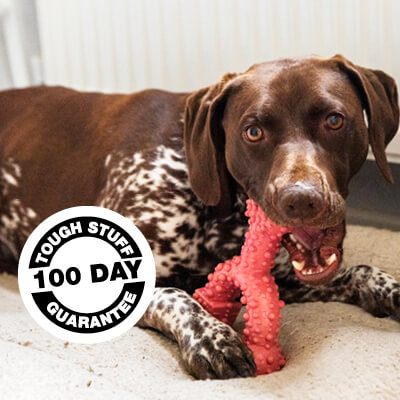 TERMS AND CONDITIONS
Please read all these terms and conditions 
The TastyBone Trio range is made from tough, durable virgin nylon with natural flavour. Our products are intended for the most vigorous chewers and we are so confident about the quality of our products, we offer a 100 day guarantee on all our nylon TrioBones. If customers are able to prove that their TastyBone lasted less than 100 days, they are entitled to a free replacement product or a refund for the original item purchased (excluding delivery costs).
How does the redemption of the 100 day guarantee promise work?
Customers must send us a photo image of the receipt of the original purchase to qualify for the free bone

A photograph image of the chewed bone is also needed in order for the TastyBone quality team to assess the damage

Customers must submit a picture of the dog, and state the breed, so our quality team can assess that the correct bone was purchased for the size of the dog. 

The quality team will make a decision based on the photograph provided and either accept or decline the customer's request for a free bone

Requests can either be sent by email to info@petschoice.co.uk or via post to: Brentwood House, Lower Philips Road, Whitebirk Industrial Estate, Blackburn, BB1 5UD

The 100 day guarantee is only available to UK customers
Please note that it is the pet owner's responsibility to ensure they choose the correct size of TastyBone. All dogs chew at different rates and the degree to which a TastyBone is considered 'damaged' can vary. We reserve the right to decline requests for free TastyBones if we consider the product still suitable for your pet to chew.