As the season of giving draws near, you'll be looking for the best gift possible to give to your furry bestie. But with so many toys and treats out there to choose from, it's hard to find a present that will provide your pooch with fun & entertainment, and also something that will last longer than Christmas day. Luckily, we at TastyBone have you covered. Our chews are specially designed to cater to several canine needs and will make for the perfect stocking filler for any kind of dog. Here are a few of our wonderful TastyBones that'll help make your dog's Christmas a very Merry Christmas.
For dogs with a taste for travel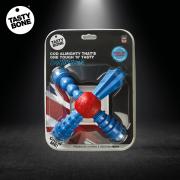 You might be staying at home for Christmas, but why not let your dog feel like he's taken a trip around the world? Our world flavour QuatrroBones are infused with delicious exotic flavours to the core that will give your furry friend the perfect taste sensation. Available in Hoisin Duck, Fish 'N' Chips, Chorizo, and Chicken Tikka flavours, our QuattroBones will find themselves at the top of any dog's Christmas list.
For the Christmas lovers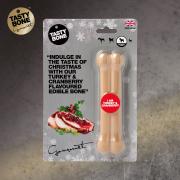 With Christmas time comes all the delicious Christmas food you can indulge in and not feel guilty about packing on a few pounds. Unfortunately, your furry bestie won't get to enjoy them all as well, as some of Christmas foods will lead to upset dog tummies. Luckily, we've got some special Edible Gourmet Bones with fantastic festive flavours to satisfy your dog's seasonal snacking needs. Including lip-smacking flavours like Partridge, Roast Goose, Honey Roast Ham and Turkey & Cranberry, your pooch will be treated to a feast this Christmas! Or, if your dog is looking to enjoy his festive tastes all year round, then our Festive Nylon Bones are just the thing he needs.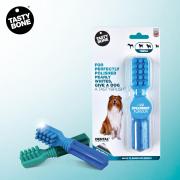 It's a harsh truth but it's the truth all the same; most dogs' breath stinks. And while they might be happy to lick your face with unpleasant odours leaving their mouth, you won't be. That's why our TastyBrush might be the Christmas present your dog needs this year. With fresh minty flavours infused into the bone, your dog will have lovely smelling breath after some time spent chewing on this bad boy. Also, our TastyBrushes protect dogs against infections and tooth loss, with every bite making your dog's teeth stronger and healthier.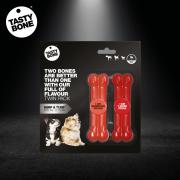 What would your dog love for Christmas more than a TastyBone? Two TastyBones of course! Our Duo Packs are perfect for doubling your furry friend's Christmas fun this year, with both bones being tried and tested by our toughest chewers to survive any chewing enthusiasts. Whether your dog is looking for a meat feast to satisfy his chewing needs, or he's looking for a weekend treat with a Sunday or roast dinner, we've got your furbaby covered.